Posted by
Davis Carman
on Nov 3rd, 2015 in
Family Life
|
Comments Off

on Eight Milestones to Mark Well So You Don't Lose Your Way
Teach us to number our days aright, that we may gain a heart of wisdom. (Psalm 90:12)
I like to say that homeschooling is the adventure of a lifetime. Life is a journey, with milestones that mark our progress along the way. And we will see that our cups are overflowing with goodness and mercy when we stop to observe these significant markers. Recognizing the blessings that accompany life's big moments can help make us thankful for every good gift from above.
So what are some of life's milestones worth noting, celebrating, and preserving? Here is an elite list of eight.
Baby Dedications
Among our family's most precious memories are the dedication services for each of our children soon after they were born. Each child received a letter from our pastor, a little blue or pink Bible, and a picture in the same white gown worn by all seven of the children. After the dedication of our youngest, Rachael and I recorded our own private family service. It warms my soul anew each time I watch it to hear my children—ages 13, 11, 8, 6, 4, and 2 at the time—say something heartfelt to their youngest sibling. "I wuv you, baby Ben. You a good widdle bwuver."
Salvation and Baptisms
Christian parents long for the day when each of their children will make a proclamation of faith in Christ. I prayed that my kids would be saved at an early age, and I am thankful to report this was the case. Sometimes it happened after a church service, during VBS week, or on a quiet Saturday afternoon. On this glorious day, make sure you take a picture and record the date and location, because your child will want—and probably need—the reminder at some point in the future.
When the time came for my kids to make their profession of faith public via baptism, we invited other family members and made a big deal of the occasion. My father-in-law, who served as a pastor for fifty years, has had the pleasure of baptizing all seven of my children. My oldest four were all baptized on the same weekend in a swimming pool in the mountains of North Carolina. One had the spotlight solely on her for a baptism service in a hotel pool. And the youngest two were baptized on the same day in my in-laws' backyard swimming pool, surrounded by family. Photographs serve as keepsakes to remind us of these blessed times.
Manhood, Womanhood, and Purity for Life
One way parents can bless their kids is to formally recognize their children's transition to adulthood. There are many good ideas out there about how to mark this moment in a young person's life, such as a father-son camping trip, a mother-daughter weekend away, a special gift for your young man, or a purity ring for your daughter. The key is to use this occasion to tell your son or daughter that you now see them as a young adult, with increased expectations for their attitudes, behaviors, responsibilities, and spiritual growth. In other words, it is time to leave childish things behind (1 Corinthians 13:11).
Something I did was to give my young men a manhood to-do list. I gave a list to all four of my sons on their twelfth birthday with the goal that each would complete the items over the course of the year leading up to their thirteenth birthday. The manhood list was customized for each son based on his known interests and where he was in life. The list included books to read, scripture to memorize, a presentation to prepare, physical goals to accomplish, and the like. A list like this can help you and your child focus on the changes required for him to become a young man.
You could make a similar list for your daughters, but I chose instead to take each one on a very special date, present each one with a purity ring, and continue the discussions about being wise in relationships, guarding their heart, the power of a kiss, and "men with sharp teeth."
When my two older sons turned nineteen, I gave each a real-life, heavy-duty, 53-inch-long William Wallace broadsword. This was to proclaim to them that most of their manhood training was now over and they had better be up to the challenge of being a real man who follows Jesus and loves Him with all their heart, mind, soul, and strength.
Graduations
There is nothing quite like a homeschool graduation. I remember going to a few when our kids were younger and wiping tears from my eyes. I realized then this could be a really big deal when our time came. We've graduated three so far, with our fourth ceremony planned for this coming May.
Graduation ceremonies are a big deal for students, but they may be even a bigger deal for homeschooling moms. So on this special occasion, make sure that she, too, receives the kudos and recognition she deserves.
Let me say a word or two about college graduations: One of my sons attended an online school after his homeschooling days were finished. He told us that he wanted to attend the physical graduation, which was to be held 3,000 miles away. Since I believe this is a milestone worth celebrating, we decided to make an event of it and take the whole family. So that summer, we flew the whole crew (eleven of us, including grandma and grandpa) from Charlotte, North Carolina, all the way to San Francisco. As it turns out, we weren't alone. Of the roughly 300 young men and women graduating that day, I would guess that 250 had traveled from Europe, Africa, Asia, Australia, South America, Canada, and more than thirty U.S. states.
The preparation and work for a college graduation was much less than the ones from our home school yet no less satisfying. After our oldest graduated in May 2014 in New York City, we were quickly off to Minnesota the following month to celebrate another major milestone in life.
Weddings and Anniversaries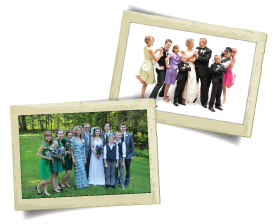 Currently, only one of our seven children is married. I'm sure the preparation for each wedding will be as different and varied as the personalities of each child. As parents of the groom on this occasion, we didn't have many obligations or expectations. I basically had to work out travel plans to get the whole family from North Carolina to Minnesota. I booked a flight for all ten family members to Fargo, South Dakota, by way of Chicago to arrive on Thursday in order to have plenty of time to make the rehearsal dinner Friday night.
In our case, we made memories from the moment we arrived at the airport. Turns out that due to a communication error, our tickets were actually for Friday, not Thursday. This was going to cause us to miss the rehearsal and dinner. Fortunately, we had the best ticket agent I've ever encountered, and she managed to get us all on new flights for Thursday. The only noticeable difference was that we weren't flying together—we essentially flew as three separate groups arriving early afternoon, late afternoon, and evening. Thus we slowly but surely made our way to northern Minnesota.
The rehearsal dinner was held at an old logger mill, and it was great. But it didn't go without a hitch. The owner didn't take credit cards, and I didn't have nearly the cash required to pay for such a large party. So after a gentleman's handshake, he agreed to let me mail him a check when I returned home.
The wedding was outdoors on a beautiful day at the headwaters of the Mississippi River. My son and his bride exchanged vows and rings, then sealed the covenant with a kiss before skipping out to music one might expect to hear in the Shire of the hobbits.
As they drove away, honking the horn of their getaway vehicle, Rachael and I held each other and took it all in. Our firstborn son was married. It was a beautiful day and a milestone that brings back good and pleasing memories.
But what about anniversaries?
When Rachael and I were first married, we talked about the idea of renewing our vows somewhere down the road. I was completely against the idea, seeing it as corny, silly, and frankly, unnecessary. However, as I aged, matured, and learned more about the mysteries of marriage, I changed my mind. I have to admit that the lower value that society was assigning to marriage also played a part in my desire to celebrate our marriage with our children and friends.
So Rachael and I threw a twenty-fifth wedding anniversary party in the summer of 2011. We hired a professional photographer, ordered food through a caterer, rented white lawn chairs, and invited 150 people to attend the grand event at our house. My father-in-law officiated, just as he did the day we were married in Texas a quarter of a century prior. We had actual fireworks during the ceremony, and it's a highlight people still talk about. And to top it all off, we hired a friend to help us choreograph a routine in order to open the dance floor in style.
Rachael and I have done well celebrating our anniversary each year, including a nice trip every five years. But the day of our twenty-fifth anniversary party was truly one of the best days of my life.
Retirement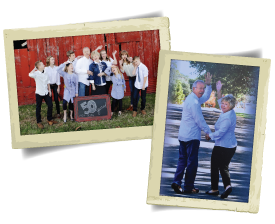 After fifty years of preaching and serving as a church pastor, my father-in-law stepped down from the pulpit to devote himself to less-demanding work. Retirement isn't for wimps, and coming up with a good plan that was realistic and practical took some effort and plenty of conversation for our family. Both of my in-laws are seventy years old and in good health. So one conversation went something like this:
"Why don't we remodel our basement into a mini-apartment and have you all move in to spend more time with the grandkids. That way we can enjoy ten or so good years before you have to move in with us."
They loved the idea. And that is pretty much how we've spent a good chunk of our time in 2015. In other words, nothing happened with the snap of a finger. We had to hire a contractor to remodel our basement. Grannan and Paw had to sell their house in Texas and move their belongings to our place in North Carolina. We had to give up large portions of our garage to temporarily hold their belongings until the basement was ready.
Their church in east Texas threw them a retirement party complete with story-telling, jokes, pictures, tears, laughter, prayers, well wishes, and gifts. It was good to see their church family send them off in style. Their hearts were overflowing with joy, and close friendships were affirmed. All this filled their souls with the confidence they needed for the journey ahead.
The dust is just beginning to settle, and we have the holidays ahead—possibly with some new family traditions—but I think I can safely give us a passing grade on the project thus far. I can definitely say that my father-in-law is doing just fine in his first year of retirement. His laugh is contagious, and the dinner table is blessed with new stories to mesmerize the kids. And the time my younger children are getting to spend with their grandparents in the course of a day is priceless.
This milestone is a big deal. It can be filled with fear and uncertainty. But it is one to note, mark, celebrate, and observe well.
Funerals
I recently attended the funeral of a good friend who died at the age of 53 after a one-year battle with cancer. It didn't matter what my schedule held that particular day, as I wasn't going to miss her going-home celebration. For such a milestone as this, you simply need to be there.
My maternal grandparents died when I was just a child. I remember my mom crying when she got the news. During the last twenty years, we've buried my father, both of my paternal grandparents, and three of Rachael's grandparents. The most recent death occurred when my grandmother entered eternity with Jesus just after Thanksgiving 2012. The family gathered for the memorial, a gravesite service, and a private meal, and we spent a couple of days together going through all of her possessions while sharing memories, laughing, crying, and hugging. We drove home with a U-Haul in tow filled with pictures and precious memories and an upright piano that has been in the family since the 1950s.
Grandchildren
From baby dedications all the way to funerals, the circle of life would not be complete without a new generation to keep the cycle going. This is where grandchildren come into the picture.
Psalm 128 says it is a blessing to see your children's children. We are thrilled to know that our first, a girl, is due to arrive next month in Arizona. We can't wait to meet this new blessing that is being fearfully and wonderfully made with a purpose and work that God has already prepared in advance as a way for her to bring glory to her Creator. I'm sure we will take a gazillion pictures and be proud as peacocks (all in a good way, of course). But it's a little sobering and humbling to know that our son and daughter-in-law are taking on the responsibility to raise this little girl. I expect that they will do things differently than we did, maybe even in ways that make me uncomfortable. Yet I have full confidence in them, and I expect they will do an even better job than Rachael and I did when we were young and trying to figure out this parenting gig. For right now, I just look forward to holding our granddaughter and taking it all in.
Milestones help us mark our progress on the journey of life. Are you paying attention and reading the markers on the path of your life's journey? Are you savoring the moments well? Which milestones are you about to reach, and how do you plan to celebrate, take it all in, and capture the memories?
Walking by faith and enjoying the homeschooling adventure of a lifetime!
© 2015 Davis Carman
homeschoolcastles.com
Davis is the president of Apologia Educational Ministries, the #1 publisher of creation-based science and Bible curriculum. He is also the author of three illustrated children's books designed to instill a biblical worldview. Good Morning, God is based on Deuteronomy 6, and A Light for My Path is an ABC book based on Psalm 119. His latest, In the Beginning, is based on the Creation account in Genesis. He believes that if there was ever a time to homeschool, it is now!